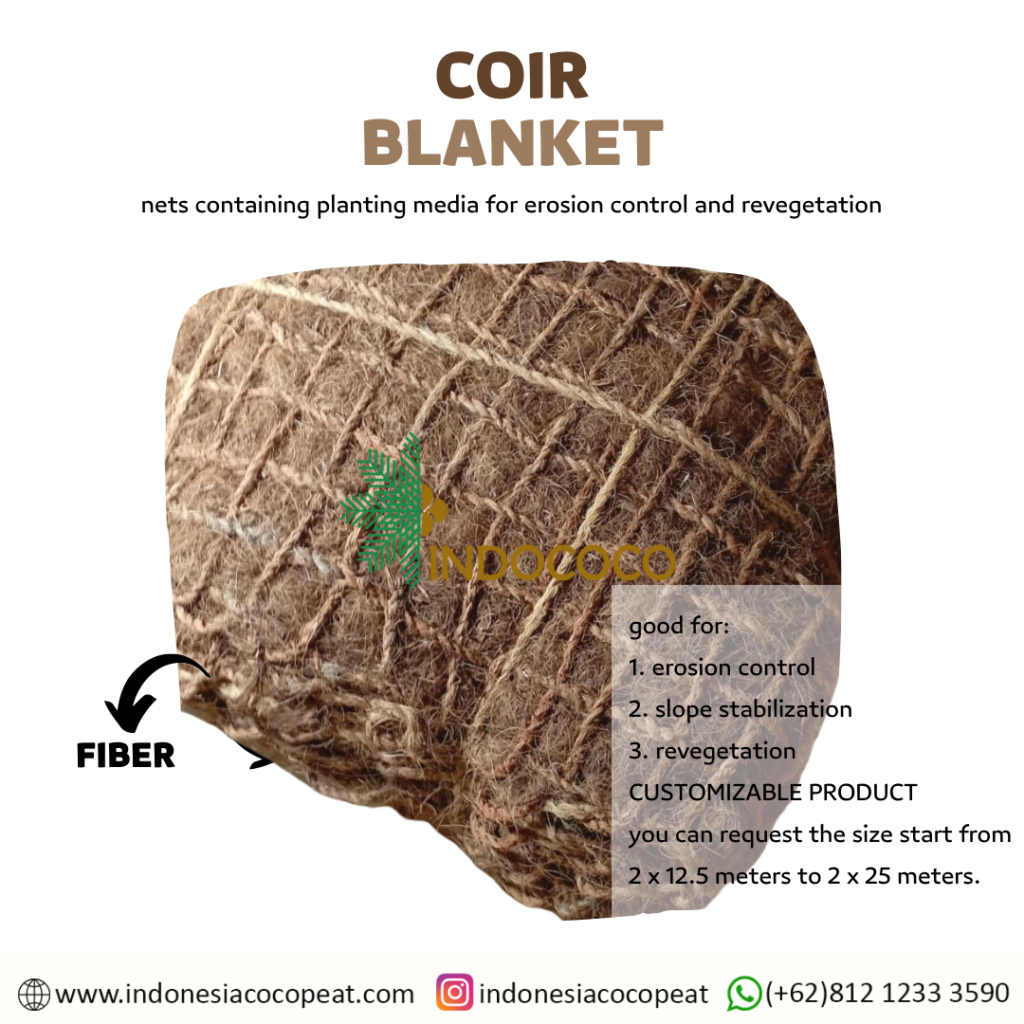 Coconut is one of the most popular plants because it has various benefits, one of which is being used as a coconut fiber blanket which can help reduce the risk of landslides in the highlands.
This plant can also easily grow in almost all countries except countries located on the European continent. The countries that have a sub-tropical climate. Temperatures in these countries are too cold and make coconut difficult to grow.
However, in countries with tropical climates such as Asia, coconut can grow easily in various places. The largest coconut-producing country itself is located in Southeast Asia, namely Indonesia. And it is capable of producing 18 million tons of coconut every year.
Coconut fiber blanket is one of the many products that can be produced from this coconut plant. Because, as we all know, there are many products that can be made from this coconut plant.
Not only the fruit, almost all parts of this coconut plant can be used starting from the stems, roots, fruit, leaves, and also fibers. That's why coconut is also called a fruit with a million benefits.
The World's Largest Coconut Producing Countries Coconut Fiber Blanket Raw Materials
As previously mentioned, coconut can only be grown in countries with high enough temperatures, such as countries with tropical climates. So no country with a sub-tropical climate is included in the list of the world's largest coconut producers.
Even in the United States, only Florida has enough humid environments for coconuts to grow well. The following are the 4 largest coconut producing countries in the worl. It can be used as coconut fiber blanket products.
1. Indonesia
Every year Indonesia produces at least more than 18 million tons of coconuts. So do not be surprised if they are ranked number one as the largest coconut producing country in the world.
2. Philippines
After Indonesia, in second place is the Philippines, which is the second largest coconut producer in the world. The Philippines produces 15 million tonnes of coconuts annually, a figure that differs only slightly from Indonesia's yields.
3. India
Then, the next largest coconut producing country is India, which produces 11.9 million tons of coconuts annually. This bollywood country ranks third in the ranking of the largest coconut producing countries in the world for the material for making coconut fiber blanket.
4. Brazil
Not only Asian countries, countries located in South America such as Brazil are also capable of producing 2.9 million tons of coconut every year. This number makes it number one on the American continent but only ranks fourth from the ranking of the largest coconut producing countries.
Alternative Ways to Prevent Erosion
One of the famous products made from processed coconut that can be very useful for us is coconut fiber blanket. This product can be used as an alternative way to prevent erosion that can cause landslides.
Because as we all know, the main way to prevent erosion is to do reforestation. However, this method takes quite a long time and can take up to decades.
Coir fiber has a function that is almost the same as tree roots, namely to glue and tighten the soil so that it can reduce erosion. So it's not surprising that more people choose to use coconut fiber blanket to prevent erosion and minimize landslides.
If you interest to know more information about coconut fiber blanket and other coconut derivative products like coir geotextile, coco fiber, etc you can visit our website. You can also click link WhatsApp here to send a direct message with our team.