Coco pots are handicrafts in the form of plant pots made from coconut coir. This organic coco pot is ready to beautify your plants.
The advantages of coconut coir pots:
1. Able to hold more water
2. Allows plant roots to grow freely
3. Coco pot contains nutrients that are beneficial for plants
This coconut coir pot consists of various forms, including:
1. Round shape
2. Box shape
3. Heart shape
4. Cone shape
5. Half-round shape
6. Hexagonal shape
7. Trapezoid shape
8. Pentagon shape
9. Barrel shape, etc.
Based on its material, coco pot divided into 3 types
1. Woven type
Woven type formed by 100% coconut coir that arranged manually.
2. Non woven type
Coco pot that made from coconut coir and fenced off by wire mesh.
3. Press Type
a pot made from coconut fiber that squeezed by a tool.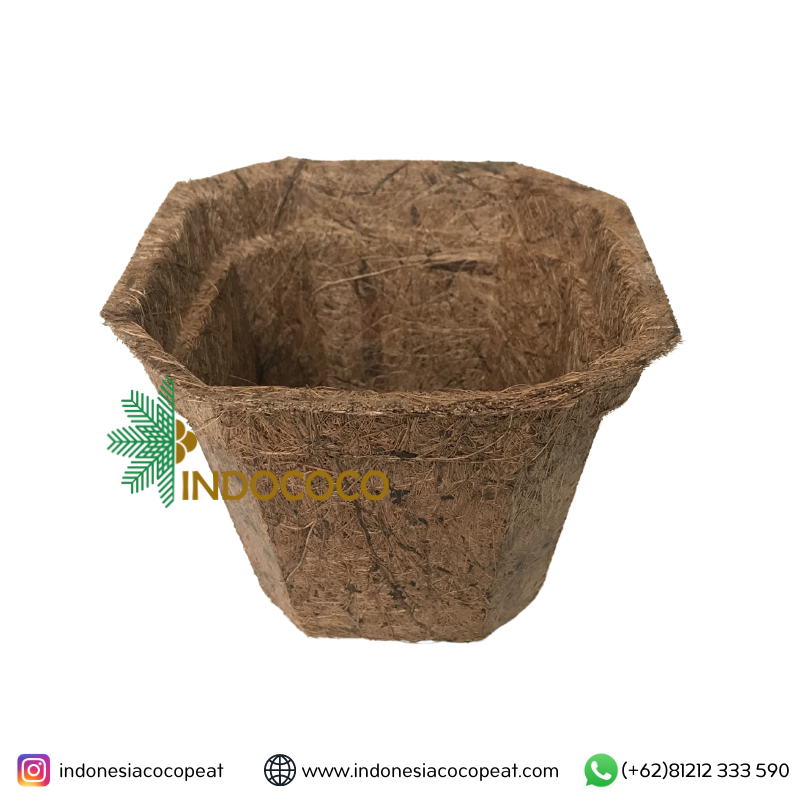 This coconut coir pot also has various sizes.
For attention, this product is a handmade product. The size and shape produced are not always exactly the same.
But we have the good news for you. You can also make your own size that is suitable
to your needs.
Just connect with us by clicking here.
How do you make a coconut pot?
1. Prepare the materials, like coconut fiber and wire mesh
2. Combine coconut coir by arrange it into your own shape or you can also woven it
3. Keep checking your result, so you can know quickly if you go to wrong shape or size
How do you use a coconut pot?
1. Fill the pot with planting media, such as cocopeat and also nutrients.
2. After that, make a little hole in the planting medium.
3. Put your seed or plants, then pile up.
Are coconut pots good?
Coconut pots are good for your plants. Besides being made from environmentally friendly materials, coconut pots also contains natural nutrients from coconut coir which are needed for plant growth.
Drop Us a Line
We really do like hearing from you, so drop us a line and let us know how we can help you!