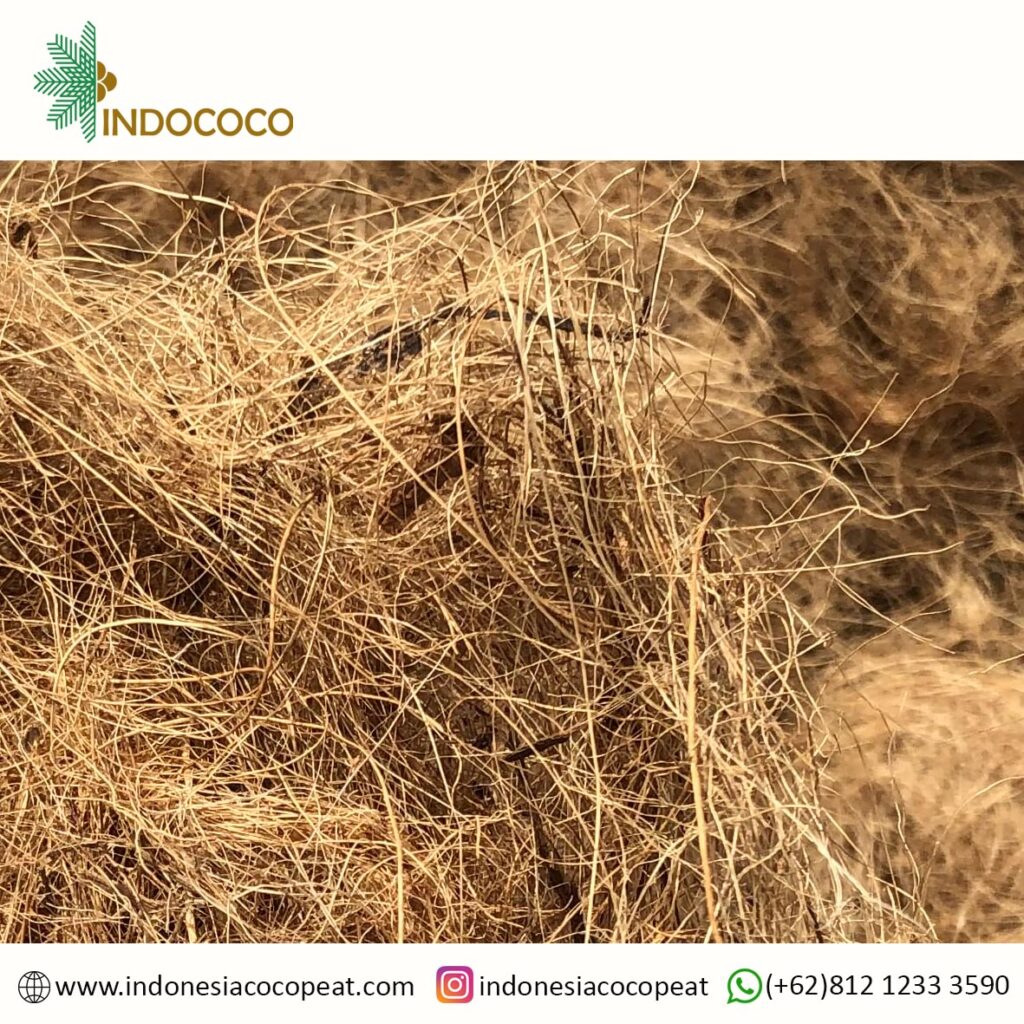 Coco fiber roll or net are made from full natural coconut coir. The fibers rolls are these coconut fibers twisted into thicker and stronger strings then tied into coir mats. This material is then twisted in lines, making it into the frame used to produce a coir mat based on the customer's requirement. Coco fiber, after being roll can be used to control logs used along streams of running water to protect against widening and soil erosion. The fiber logs are made up of coir fiber or rolled-up coir pads encased in coir nets or mats. Coco fiber rolls are kept at the edge of the bank secured.
Coco fiber roll for erosion control application such as covering barren hills helps prevent soil erosion is top and most important usage. Also, in Korea, coco fiber roll is used for paving, giving a unique look and difference from any other paving in the world. In the house, coco fiber can be used for interior decoration that looks warm and luxurious. It could install its soft look theme on the floor or wall because it has a decent brown color. And for hobbyists, this material can be used for animal bedding in aquariums or vivarium in an aquascape.
The benefits of coco fiber roll
First to mention of this product benefit when you applied is durability. It doesn't need to argue because this material is proving has excellent strange for long-last usage. This material is also a natural renewable resource, so you don't have to worry about exploitation in nature. Because this material was a by-product of coconuts that overflow in nature, this material is also biodegradable, so you don't have to worry this product will harm the environment after use. It will be for nature to decompose this material due to its entirely natural product. The wide range of this product use or we can say this material is versatile for any application like we mentioned before, like the example for matt coco fiber roll prevent slips when it uses for paving, matting entrance, or house floor carpet.
Our Coco Fiber Products
Coco fiber product by us is focusing on manufacturing and exporting company that specializes in making coconut products, especially coco fiber, coco peat, and coco fiber roll mat to supply in the international market. To bring the best coco fiber mats to you as consumers and contribute to a more sustainable life. Our manufacture is doing a good job maintaining the decent condition of each product while trying to cut additional costs to give customers the affordable price. As quality is the number one factor in our priority, you will not have to be anxious about stock quality when doing business with us. Our "Made in Indonesia" coco fiber roll or mat is shipped to the world every day by our team to supply your daily needs.
In addition to household and agriculture, coco fiber roll also applied in automotive product. For many developed country coco fiber can be use as seats for cars and many accessories because in that countries climate change was the big issues and people start to use eco-friendly products. There are still many more uses of coco fiber in future with a lot of development and innovations.
If you need any further assistance regarding the coco peat,coco fiber, coconut rope or other coconut derivative products, please click this Whatsapp link to contact us directly: (Fajar Stevano) or email: [email protected]