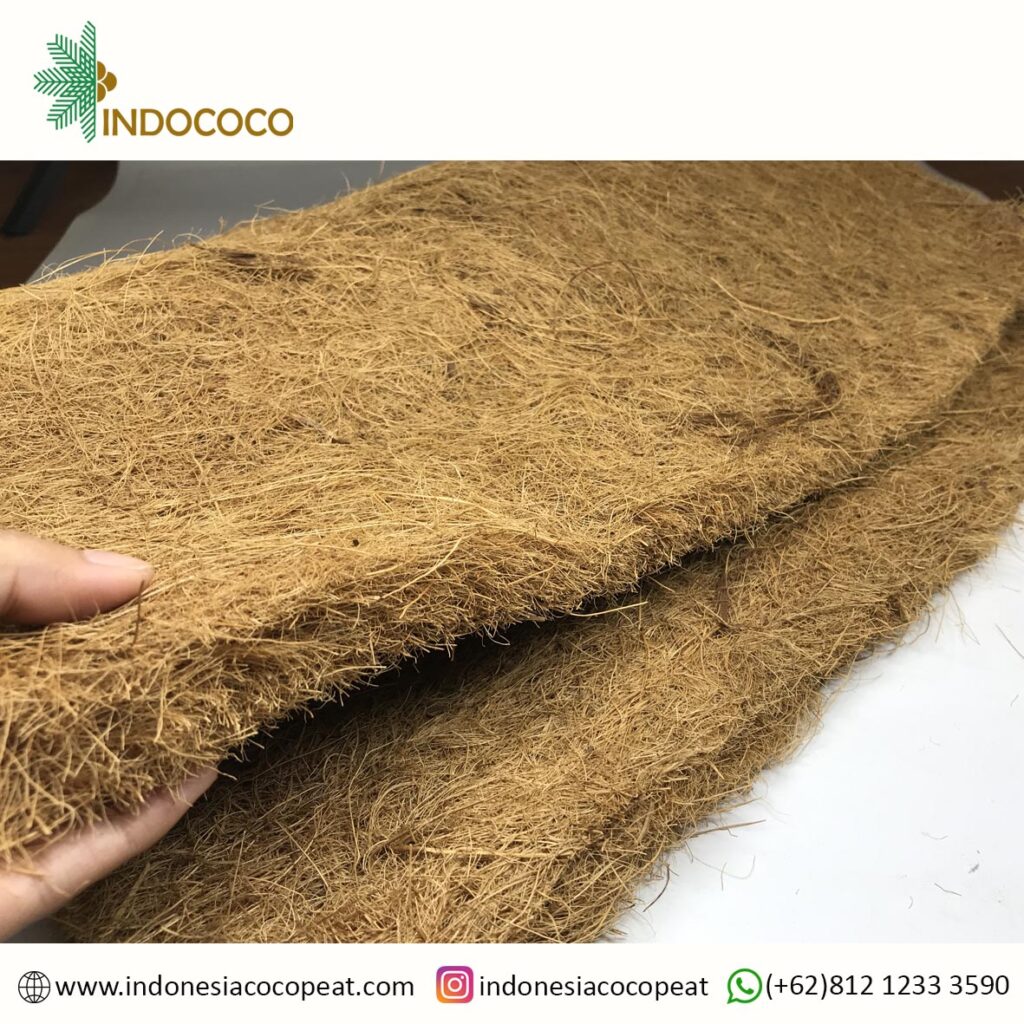 Indococo The Best Indonesia Coco Sheet – Coco sheet is a coconut fiber that processed manually or with a machine, pressed with a latex until thickness 1-3 cm or more than desired, a length of 25-50 meters, and a width of 1-2 meters. These include semi-finished goods that can processing into high-value goods.
Indococopeat Indonesia is a company that makes coco sheets and other goods from coconut fiber. The quality is safe, organic, and does not absorb dust. The company maintains high coco sheet quality requirements to provide the best for customers. They keep coco sheet in good condition till they export it to countries like Korea, Japan, China, and France. We discuss the product and benefits of the coco sheet in this article.
The benefit of Use Coco Sheet
Erosion is the movement of soil from one place to another places with natural causes such as wind, and water. Indonesia have a tropical climate that high potential for erosion. Coco sheet effective reducing erosion. Because it can maintain soil moisture in an enormous expanse of land, so that it becomes a medium for plants to grow.
Coco sheet has a soft natural sponge can occur for raw material of car seats, spring beds. Beside that, coco sheet is environmentally friendly it's from the advanced process of coconut waste or coconut fiber. The utilization of this coconut fiber waste can be of economic value. We can produce wallet, bag, and shoes with the raw material from coco sheet.
The Benefit of Use Coco Sheet for Planting Media
We can use Coco sheet as a planting medium to replace soil. This is innovative because we can use plants in a variety of ways and provide more aesthetic value by using coco sheet planting media, such as plants grown on walls. Coco sheet absorbs water, and still provides oxygen space for plants so that plants can grow easily. The use is easy, and the old coco sheet can be reusable if it gets dirty, it is quite easy to clean, can be washed, dried and wiped. After that, it can be use again for growing the new plant.
Now consumers are more aware employing ecologically friendly materials with great economic value, such as coco sheets, in their daily lives because of technological advancements and community awareness. Our company sells various products such as coco fiber, coco rope, cocopeat, and coco husk at a lower price. We provide a high quality with good control standards in various sizes and packaging that consumers need.
If you need any further help regard the coco sheet, cocopeat, coco fiber or other coconut derivative products, please click this Whatsapp link to contact us directly: (Fajar Stevano) or email: [email protected]