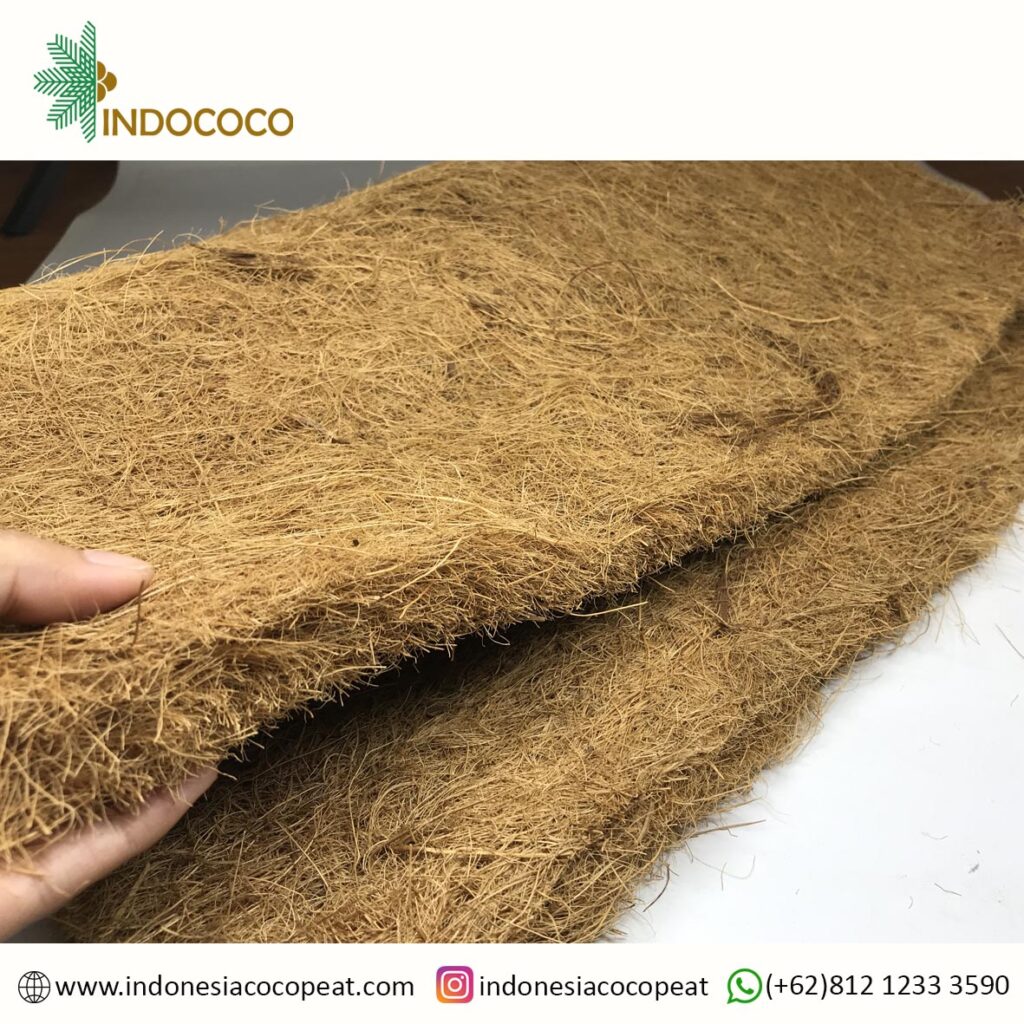 Indonesia Coco Sheet Latex for Natural Craft- Indonesia coco sheet nowadays can be create into many innovative products if we can manage the coco sheet product well and study it carefully. It will become a helpful product both in terms of activities and commercial assignments. In this modern-day, all products have retail value. Anything that processes into a worth product. And the smallest material is undoubtedly a great deal. Like using coco sheet or some say it rubberized coir is a sheet of coir fiber that spray with Rubber or Latex which has a thickness of 1 cm to 3 cm or more than needed. Commonly, coco sheets applied for reclamation damaged land to be fertile again but combined with coco mesh.
Indonesia coco sheet latex creates from coconut coir, a coconut husk as crude fiber. They usually threw away or just burned coconut coir to light a fire in a rural stove. It turns out that coconut coir use as a medium for creativity. Why should coconut coir, for coco sheet latex, even though one coconut tree has so many benefits? The answer is that most of the coco sheet latex can be process efficiently and produce various valuable products. Of course, the items that have been creating are beautiful and practical. There is a lot of craft that forms with this useful coco sheet material.
Indonesia Coco sheet latex products
The first is the mattress; imagine if we have a mattress made from coconut coir. Of course, we think coco sheet latex or coir is itchy. Indeed, the mattress is uncomfortable when used. Don't think negatively first by combining coco sheet latex to make mattresses from coconut coir. So we make not all of them from coconut coir. So that the results got are flexible and naturally soft mattresses, it's comfortable. This mattress has a plus value in anti-bacterial and water-repellent and can also help spinal health or orthopedics. After that, Health mats derived from coconut fiber perfect product for people who often experience low back pain.
Coconut coir mattress is a flexible product but not easily compressed. Indonesia coco sheet latex mattress is a filler in a mixture of spring bed layers. After that, Indonesia's coco sheet latex had been to create as coco pot crafts. This product was from simple coconut coir or coco sheet latex that turned into a pot. This polybag replacement media is natural and environmentally friendly. So when we use uninstall, we are not worrying about the negative impact it has.
Coconut Coir Craft
Indonesia coco sheet latex fiber sells in various products, such as souvenirs in multiple forms. They started from women's accessories such as clothespins and photo frames to household furniture such as spoons and tables. With a very subtle touch of art, the coconut shell crafts look very artistic. Even the results of this coconut shell or coconut fiber craft can be in various bags, tissue holders, and sandals of different shapes and sizes—examples of another coco sheet latex product such as a bag. Coco bag is a unique place to store things you can take anywhere. Then this product can make into coconut coir sofa cushion, and many more than long there will be development and innovative ideas.
You can click this WhatsApp link to contact us directly: (Maria Arumingtyas) or email: [email protected] for more information.