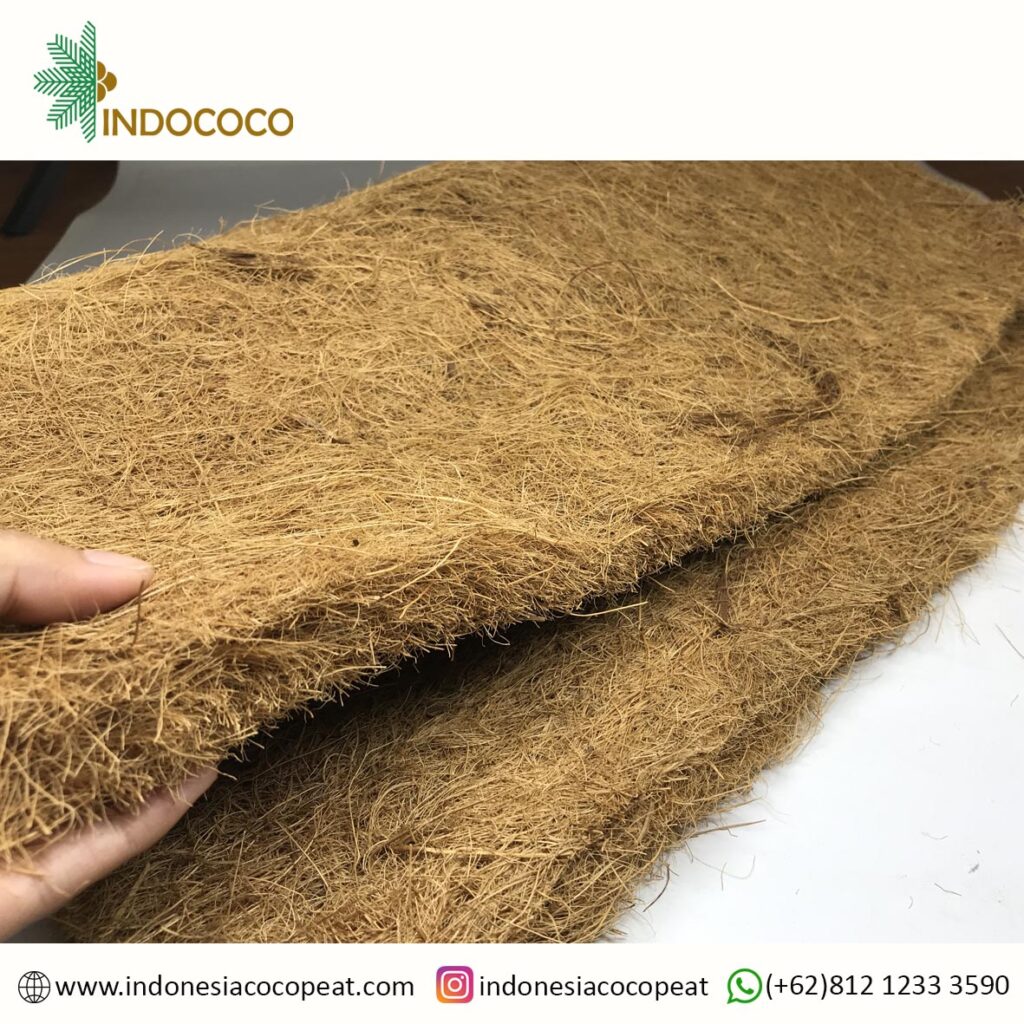 Indococo The best Indonesia Coco mat is one of the coconut derivative products. As a miracle tree, coconut has many uses. People benefit not only from its coco water and meat, but also its fiber (coir). The coir is a fibrous material as long strands. This mat is becoming popular because of its many advantages.
Protect The Environment By Choosing Eco-Friendly Products
The reason coco mat is can be eco-friendly is its material. We made this product out of coconut husk, an organic material found between the internal shell and outer coat of the coconut. The material is renewable, biodegradable, and does not contain harsh chemicals that are dangerous for the environment.
You can also help reduce the waste-products by choosing this product. We find Coco fiber abundant in Indonesia because of its tropical islands. There are many coconut shells thrown on the roadsides and markets. I mean coconut husk to be thrown in the bin. However, some products are now made from this material with some innovation. Thus, you also help to reduce waste products by utilizing this mat.
How To Use This Mat
Whether you want to use this mat as an erosion control mat or a brush mat, this mat is perfect for you.
Coco Mat To Support Vegetative Growth
The most popular use for this mat is its ability to support vegetative growth and act as erosion control. First, because of its natural pH and water retention, coir fiber is a brilliant choice for your plants. You should consider that into your plants if you are into gardening. It has many advantages that regular soil does not have. Despite being highly water absorbent, coir is use to mulch around young trees and bushes.
Second, it can also be use as an erosion control mat. To do that, you need a coco mat with an open weave design, so you can seed the ground before or after installing the coir. You need this mat, especially in environmentally sensitive areas where a biodegradable mat is need.
Coco Mat as a Brush Mat
You can not only use this coco fiber mat for your vegetative growth as it is usually use. This mat can also act as a brush mat to remove dirt, debris, and water. Place this mat in front of your entrance as part of your decor. You can get not only an eco-friendly mat but also a unique appearance mat. We prove it to be sturdy and long-lasting since it is highly durable. This mat is also non-slippery and flexible. Thus, it is worth buying it for its economical value and good quality.
Indococo The Best Indonesia Coco Mat Exporter & Manufacturer
Indonesia is one of the leading suppliers of coconut derivative products. Considering its many tropical islands, coconut trees are abundant in Indonesia. If you are interest in this mat, buy products that have good quality and customer service. The best Indonesian coco mat exporter and manufacturer is Indococo. Around 80 countries prove our company to be the leading company, trusted to export coconut derivative products.
Aside from coco pith, coco rope, coco fiber, and coco briquette, coco mat is becoming more popular because of its advantages and its eco-friendliness. If you are interest in buying this product, you can contact Indococo, the best Indonesia coco mat exporter & manufacturer.
If you are interest in buying this or other coconut derivative products, please click this Whatsapp link to contact us directly: (Fajar Stevano) or email: [email protected]