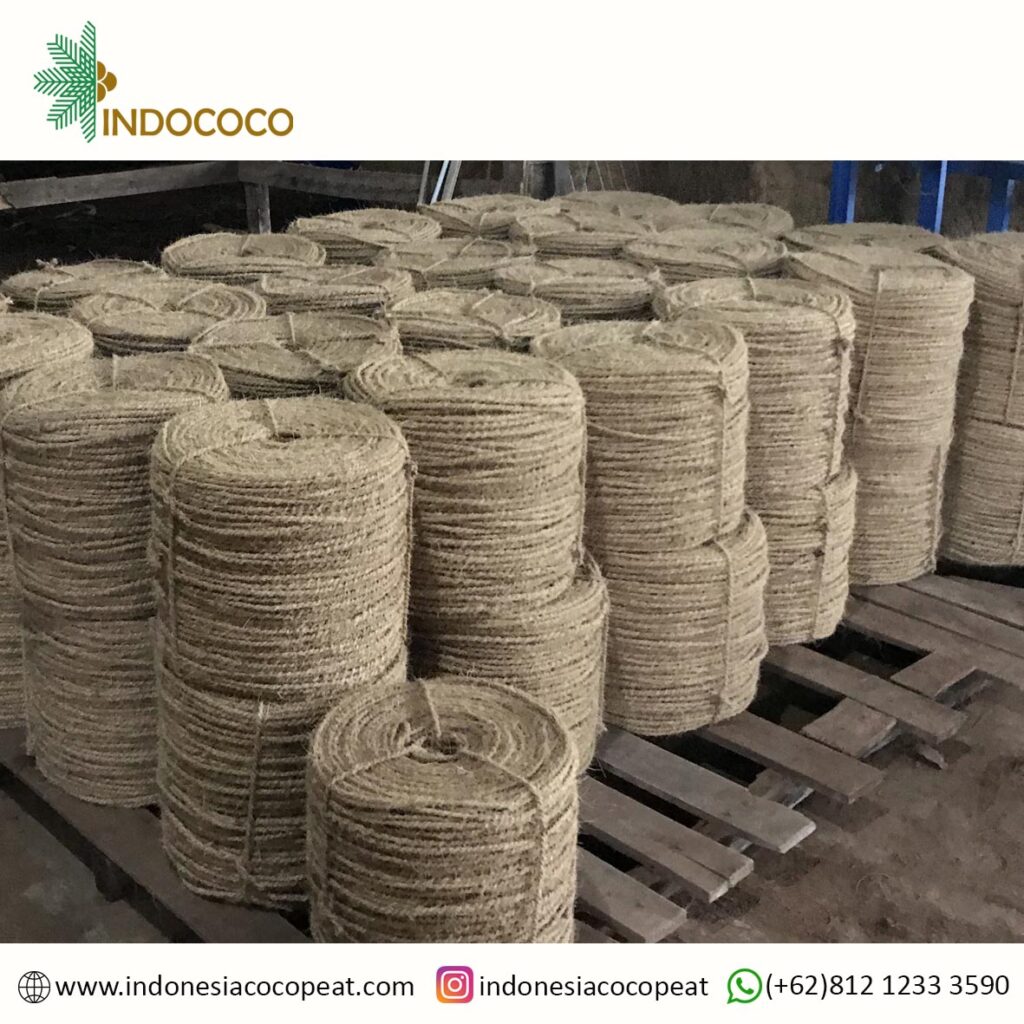 Coir Roll Australia – Coconut husk is often left unwieldy just to be washed away after taking the fruit. Coir net on coconut or also known as coir roll is a product that can be said to be environmentally friendly. Coconut husk, basically just a waste for most people.
But what you need to know is that this coconut husk can be processed into various useful and useful items, such as pots, mats, briquettes, and coir rolls. Coconut husk are processed to be a coir rolls Australia, and can be beneficial for the environment as well as very helpful for growing plants near the water sources or called hydroseeding. 
Coir Rolls Australia for Hydro Seeding and Prevent Erosion
In this case, coir roll australia is very helpful for mountainous areas that often experience soil erosion due to high rainfall, landslides, and so on. In addition, coconut husk is can use to help barren slopes and damaged mining land.
You can use it in coastal or river suburban areas, drainage, and land reclamation. Used as a controller of the slope of the soil or slope, because coconut husk can stabilize the soil and absorb water optimally.
Benefits of Using Coir Rolls Australia for Hydro Seeding
In addition to the material being easy to get anywhere, coconut husk net has many uses and benefits for human life. This coir rolls australia is ideal for vegetation vegetation relief and environmentally friendly erosion control, and it is a totally sustainable solution.
Coir coils collect and retain organic minerals and particles, and provide a stable substrate that promotes root growth, and slowly from the coir itself decomposes to maintain itself into an erosion prevention system.
There are several benefits that you can get from a coir roll, as below:
Coir has a high tensile strength that is able to protect the surface from the movement of heavy debris flows
This coir is able to last 3-5 years, which allows plants and soil to stabilize before the coir is damaged.
Natural fiber is 100% and bio-degradable.
Coir fiber functions as a water absorbent.
The formation of a good microclimate for plants on coir, the natural development of a healthy and balanced growth.
Have aesthetic value in the environment.
it can adapt to the conditions / topograpi of the local environment.
Quickly tie up the ground.
Resistant to mold and decay, and does not require chemical treatment.
Good absorption of air and water.
Can be dry by sunlight sufficiently.
Can hold seedlings and seeds in place.
Excellent for fast vegetation media.
The value of the decrease is long about 2-5 years.
Conclusion
Coconut is a tropical fruit with many benefits, and there are many uses of its waste such as coconut husk. You can use this coconut husk to making charcoal briquettes, flower pots, and even coir rolls. Coir roll australia can be a solution for those of you who want to do hydroseeding.
Or you can prevent erosion on the mountains or banks of rivers, seas and others. With this utilization, it will be very helpful and environmentally friendly.
You can visit our website for more information about coir rolls or click here to send a direct message with our team.