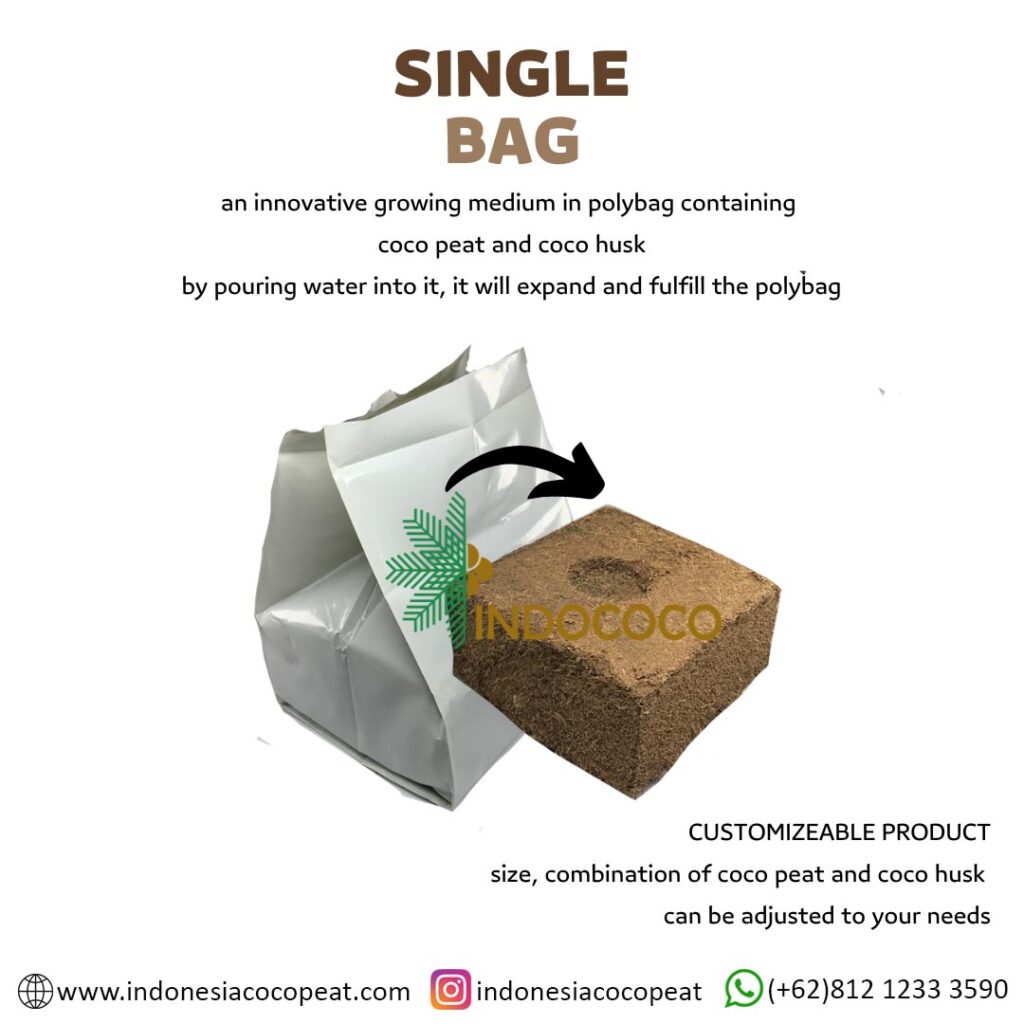 Coco peat grow bags provide great irrigation and aeration facilities for the plant growth. They feature a special blend of coir pith and coco chips. For hydroponics, these bags provide perfect air to water ratio. You can predetermine and customize the plant holes, drainage holes, and drip holes to suit the farmers' needs. Then, you can directly plant and grow the plants in these bags. Plant holes aim to accommodate the crops you want to plant whereas drainage holes aim for excessive irrigation. They come in different weights, sizes, and thicknesses. It depends on the clients' preferences.
Coco Peat Grow Bags Applications
We have proven that coco peat grow bags can increase the quality and quantity of various crops such as carnation flowers, cut flowers, capsicums, cucumbers, bell peppers, tomatoes, and strawberries. In fact, they are multipurpose growing mediums for flowers, fruits, and vegetables. Besides that, they are biodegradable and organic. Even more, they avoid soil degradation. In addition, you can transport them easily. With these bags, you also don't need to grow media after crop if there's no disease that contaminates the medium. Furthermore, these bags are environmentally friendly and offer high water holding capacity.
Coco Peat Grow Bags Benefits
There are some benefits of it. One of them is that it saves on labor and time because it doesn't require any heavy preparations and digging. Besides that, it absorbs water readily & has a 77% water holding capacity because you can wet and re-wet it easily. In spite of its great water holding capacity, this kind of bag allows the required aeration and drainage. In addition, this medium promotes better and faster root & plant growth. Moreover, it guarantees higher yield. With this bag, you save up to 50% water & reduce 70% fertilizer input.
Next, coco peat grow bags facilitate easy, systematic & uniform fertigation and irrigation. We have also proven that these bags can increase the quality and quantity of tomatoes, strawberries, bell peppers, capsicums, cucumbers, carnation flowers, and cut flowers. Because we find that these bags have many benefits, you shouldn't hesitate to use these bags in gardening. However, you also need to know that these bags are available in different options, qualities, and prices. There are also many companies that produce these bags. Therefore, make sure that you buy the best-quality products for your plants.
How to Use Coco Peat Grow Bags
If you want to grow 3 to 4 plants, you will need to cut 3 – 4 holes. Here, you should water the bags with drips till the slabs are fully saturated. Then, stop watering as water trees come out of the holes & let for 12 hours. After that, you have to make enough drain holes in the grow bags for letting the water out. You should make drain holes between every plant holes & at both ends of the bags. Don't forget to let the added water drain from the coco peat grow bags. Now, you can add the fertilizer plant from the drip till the slabs are fully saturated.
If you interest to know more about grow bag and other coconut derivative products, you can visit our website. You can click here to send a direct message with our team.