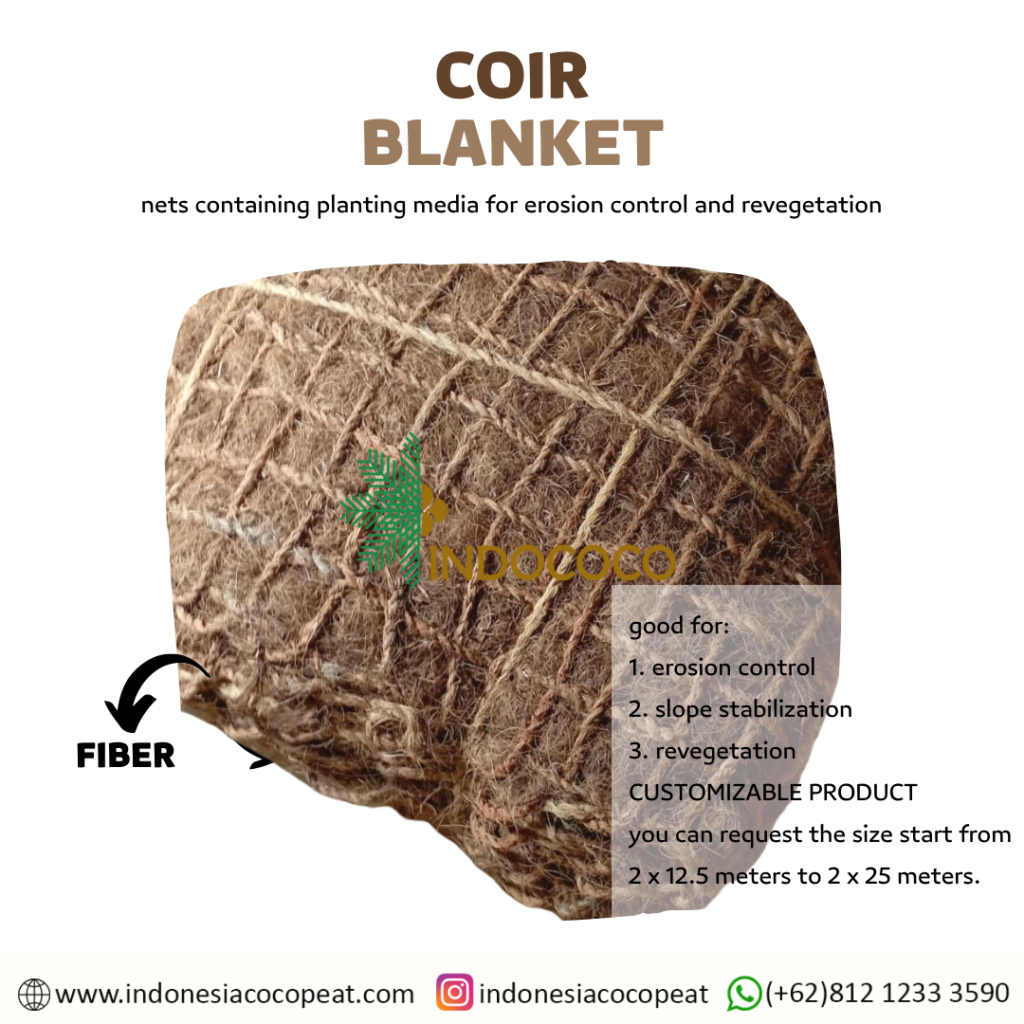 For several people who work in civil engineering industry, coir blanket is something which is very common. In fact, it has many advantages to safe our earth and avoid disaster. The former mining excavated land in the mining material-producing areas looks very terrible.
The damage it creates has the potential to cause landslides, erosion, groundwater erosion, and even flooding. People must find the right solution to avoid the worse effects. The best step to reduce such damage is to replant it or reforestation.
That must be done seriously. However, before that reforestation process people have to take an essential storm. It is to plant the land with cocomesh or coir blanket.
Know the Detail First 
Before talking about it's advantage to avoid erosion, make sure to understand about the definition first. People usually make this item from the coconut fiber.
The size is like a volleyball netting or you can adjust it based on the needs. Many experts said that this item is good to safe the land from any disasters which one of them is erosion.
To use this coir blanket, you must pegging the edges. Then it is spread out in the land of the former mine excavation. The installation is adapted to the soil structure. Usually it comes in several different forms. These can be oblique, or flat.
2 layers are the common installation nowadays where it is enough to do it's function. Make sure to understand about how to use this item. The guides are available everywhere and don't forget to ensure the size before buying.
The Benefits of Using Coir Blanket
Coir blanket also has other benefits for the land. This medium is very easy to loosen the land of the former mine excavation. It is true that they are a good planting medium.
Usually, people use coir blanket for some civil engineering works. In a further detail, coir fibers and polypropylene are two major materials of this item.
The polypropylene netting is for the top and bottom parts. This blanket is effective to control erosion. It promotes the rapid vegetation of riverbanks and also berms.
Don't worry because this stuff is easy to Install. You just need to measure the land size before using this one. It lightweight as well. Now, it is easy to find this thing from any shops.
The System of Coir Blanket 
The performance of this stuff is quite simple, but somehow it is really effective. This blanket will diminish any effects from rain water. Then it prevents any formations of gullies.
After that, this coir blanket will reduce the flow, especially in the wateron sloped surface. For controlling the erosion purpose, it has some methods.
Basically it protects a land from drying and also from wind erosion. Besides that, the good root system can develop properly there because the important particles are there.
Furthermore, this stuff also provide a proper moisture retention. The last function is facilitating quick revegetation for the natural environment there.
From the explanation it is clear that the system is actually not that complicated. However, coir blanket gives a great impact for nature, especially to avoid erosion.
If you interest to know more information about coir blanket and other coconut derivative products like coir geotextile, coco sheet, coco rope, etc you can visit our website. You can also click link WhatsApp here to connect directly with our team.