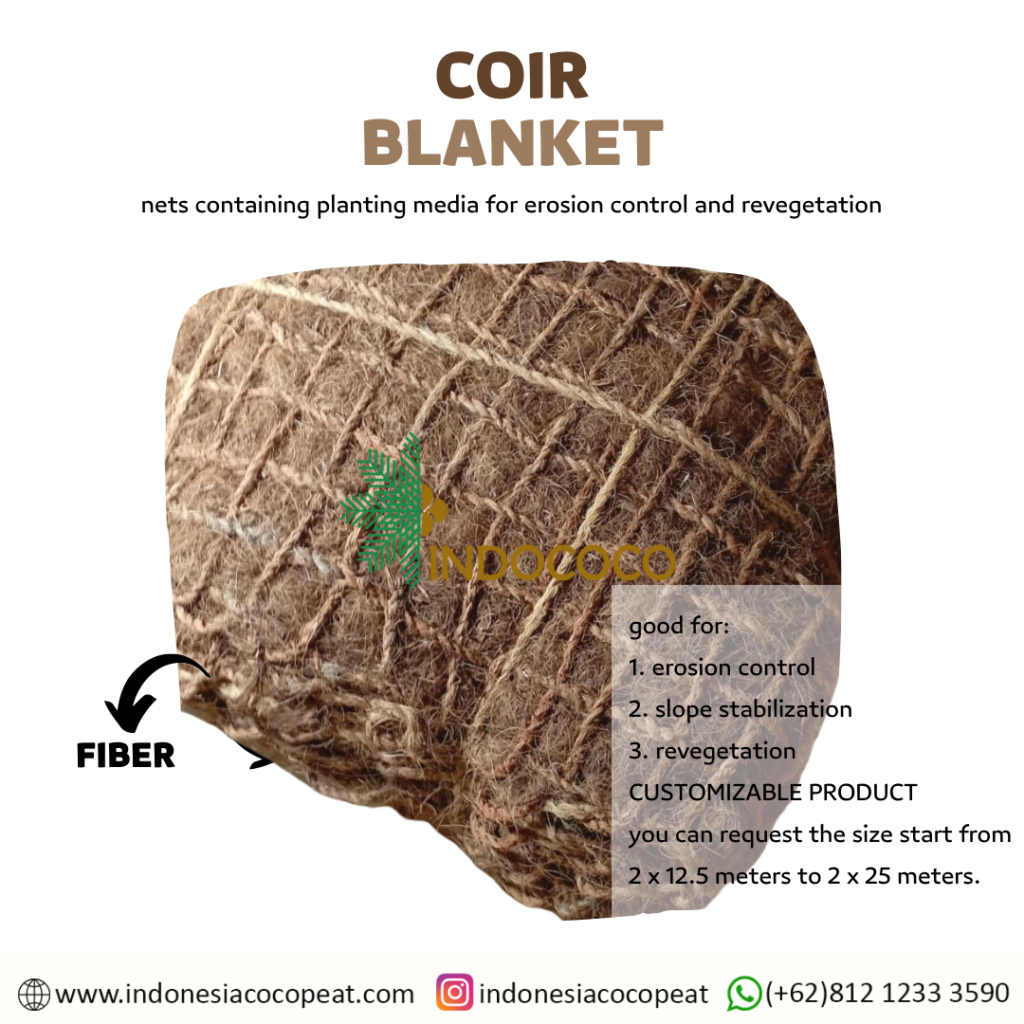 Bio erosion control mats are the product which are available. People usually use this item to handle this natural problem. Maybe, this solution will be good for you too. 
Erosion is a natural process where soils and rocks move from an area to others. The causes are usually wind or water flows near that place. However, there is also another cause. That is human who is taking part on this problem too.
Whatever it is, this thing needs to be solved as soon as possible because it comes with a lot of bad things. For agriculture, it can cause the ineffectiveness. That is why; expert recommend many solutions. One of them is this bio erosion control mats.
The Good Side of this Solution
You can say that this solution is a great option. This temporary way can support the growth of surround plants. Needed that, the reinforcement of soil will become better as well.
To do so, you just need to place the blanket or mats made from the coir. These can be natural material (biodegradable) or even the synthetic ones. The choice is yours.
In fact, these bio erosion control mats will fight the soil problems. It makes sure that soil has a proper and good condition to grow the seeds.
They also protect the seed and control the weed. The final goal is making a successful vegetation. Some other accessories are available to install this stuff properly.
Where You Can Apply this Bio Erosion Control Mats
Various different areas may need to use this item. Those are like the wetland, stream bank, slope, highways for embankment process, tidal areas, boat wash, landfill caps, and more.
One thing for sure is that you must measure the size first and then buy the product. The types of this product are biodegradable and synthetic one. They have the different materials.
Besides that, the thickness is also different. bio erosion control mats are from natural fibers. That is why; they are able to absorb the moisture easily and do some other functions.
The examples are making the area is good for plants to grow. This item is durable because it can last from 3 months until 3 years of usage. What are the materials inside it?
The materials to make these mats are like coconut fibers, jute, and curled wood fibers. The straw blanket are also important too to finish the whole process.
How it Works
Maybe you want to know how these bio erosion control mats can work. First of all make sure it the placement is right. Then this blanket can protect the topsoil and sediment from shifting.
The process continues until vegetation there takes root because it is a natural way to fight erosion. When you buy it, usually the form is like a carpet roll.
This design is great because you can move and unroll it to a place which needs help. Don't forget to do site inspection before using these bio erosion control mats.
Typically, this product has natural fibers inside it rather than plastics. That is why; those natural ingredients can break down to The natural environment of an area.
The experts say that It is good for a place where natural environment is their high concern. These bio erosion control mats are for the places which need minimal disruption.
If you interest to know more information about coir blanket or other coconut derivative product like coir geotextile, coco fiber, coco sheet, etc you can visit our website. You can also click link WhatsApp here to connect directly with us.