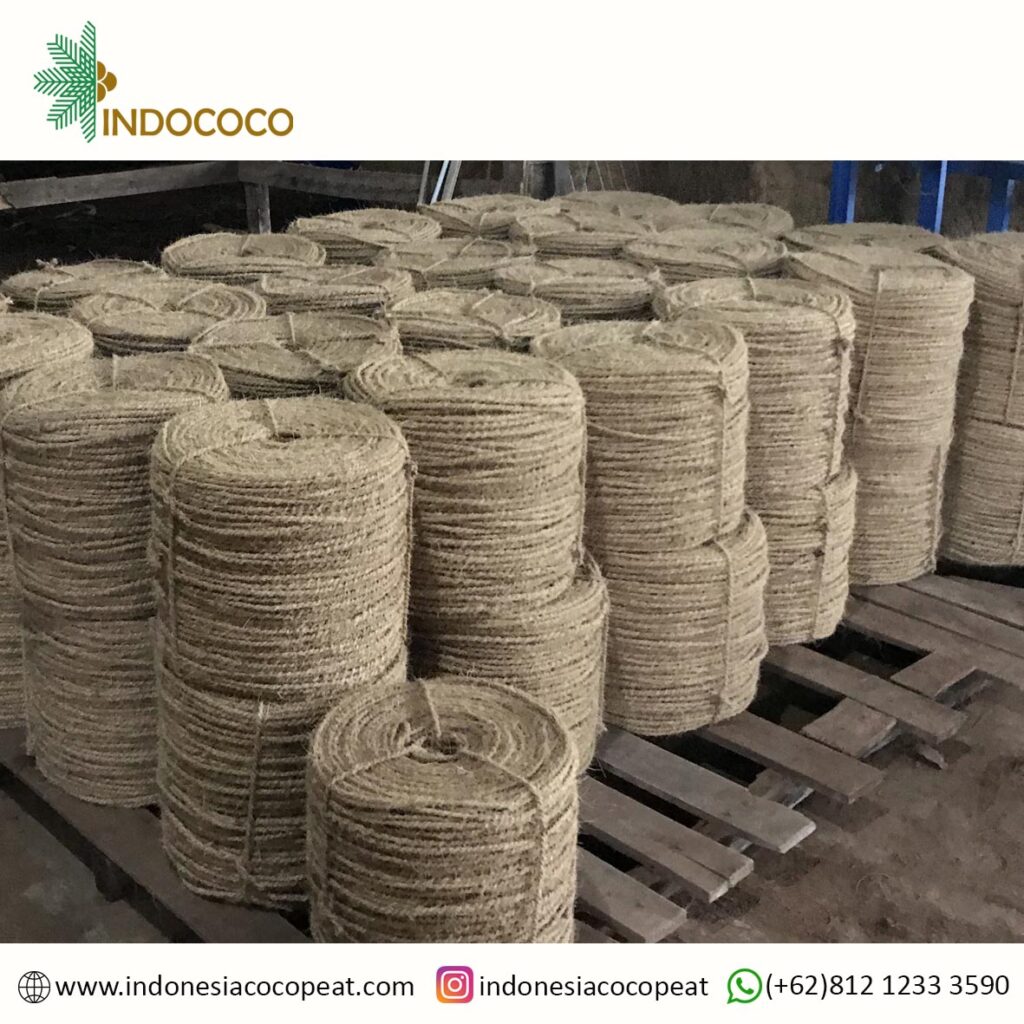 What is Coco Rope?
Coco rope, also known as coconut fiber rope, is a rope made from coconut coir. It is formed and connected together to make a rope. Several procedures are used to convert coconut coir waste into rope in order to boost the economic benefit of processed coconut goods.
The coir fiber used to make coir rope is created from coconut coir. It has been processed with a coconut coir decomposition machine to form distinct coir fibers, commonly known as coco fiber. The fiber is reprocessed by physically twisting it or by spinning it on a coir spinning machine.
The Advantages of Using Coconut Rope
The purpose of the rope has been fundamental in human life from the time of our forefathers. People used to make rope as an identical instrument by tying a certain thing or objects together. Tying up dogs is one example, but it may also be used to build bridges, buildings, and other structures.
However, with technological advancement and human resources, rope may now be utilized to make apparel and equipment. Coco rope, also known as coconut coir rope, would be an example of such a versatile sort of rope. By utilizing coconut fiber, you may create something useful for your everyday routines. Then, see the topic in the following review to learn about the functions as well as uses of coconut fiber rope that you're probably not aware of.
1. As a Component of Coco Mesh or Coconut Coir Nets
Coconut or coco mesh Coir geotextiles are a natural option for preventing soil erosion and deterioration on a wide scale. Its approval has been acknowledged around the world. Coir geotextile, being a natural substance. So it is biodegradable and ecologically benign.
Coir geotextile research has proven that it is more effective and preferable than jute and perhaps other natural materials. This relates to the durability element, wat strength, and the texture of the rough fur. Which allows flora to grow quickly, resulting in a very strong relationship from the soil. Coir Geotextile, also known as Coco mesh, is perfect for use on slopes, roadways, and rail embankments.
2. As a Fabric for Bags and Accessories
The usage of coconut fiber as coconut fiber rope for material bags could be amended based on the review above. Beautiful bags may be made using various types of coconut fiber rope processing, including work bags, school bags, stylish small-size bags, or shopping bags. To make the look more diverse, you could also add supporting items to embellish the bag, while clothes paint may be used for color changes.
3. As a Room Decorating Material
To make the space more lovely, use coconut fiber rope as a decorative item. To make your house more appealing, we may add a touch of coco rope to the backdrop or wall décor. Coir strings can be used to decorate night lights or headlights. The original notion of employing coconut fiber rope as a home design is unique to each individual; create your own ideal room concept.
If you interest to know more information about coconut rope and other coconut derivative products, you can visit our website, You can also click link WhatsApp here to connect directly with us.