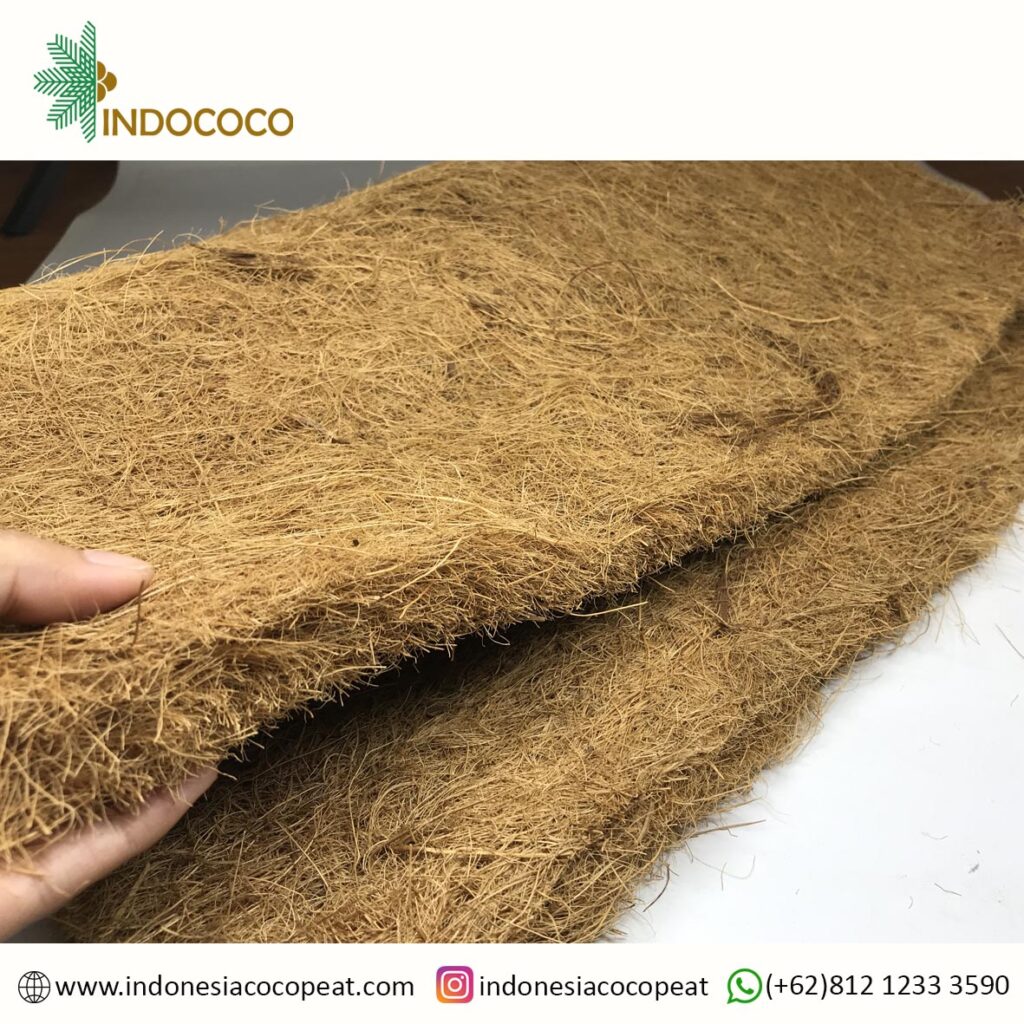 Coco fiber mat – Not many heard of the term coco fiber matting or coco coir mat, and you will likely have found them across homes and businesses as you cross the threshold. Nowadays, where we all want to be more environmentally friendly, a coco fiber mat is a good solution for our greener entrance mating or any other product that can be made from it. While it is a biodegradable product, its durability and strength mean that this product is a long-lasting material, so you don't need to buy a new one regularly. Also, it is good in many uses as well as being used for floor entrance in front of your door. It helps to remove dirt before entering, helps dry shoes before entering premises.
The natural coco fiber grows mats are eco-friendly and half-inch extra thick woven 100% natural coconut husk coir. This product is also easy to use. Besides as entrance, it can be great for growing media to plants and trees the indoors and outdoors to grow exotic and beautiful healthy garden in your house. And then it has complete feature-complete protection for plants and trees, as the natural growing medium. It is more effective than loose mulch at protecting plants. It is made of natural and organic material, so it is ideal for cover against frost and harsh environments like high rainfall and still allowing water, air, and nutrients to get the roots of your plants.
Coco fiber mat is lightweight and easy to handle
The coco fiber mat for grow or home entrance is lightweight and very easy to use by preparing a pair of scissors to customize it and match your size in need. The material of this mat can be easily cut to fit any size of the area and is designed to lay underneath slabs, baskets, and cubes. Besides maintaining moisture for growing media, the coco fiber mat is good at retaining moisture in the hydroponics tray between flood cycles, protecting them from dry out and allowing them to flourish. To get all of these benefits of the products to ensure you get from the best manufactures. By getting the best quality product, you will get satisfaction.
Another benefit of this product that's why people choose to use its formatting is its durability. The robust, resistant nature fiber of this material is ideal for high-traffic areas in the mat entrance. Coco fiber mat can last for five or six years and still serve a decent cleaning quality. Then, as we always mention, this material is entirely natural, so you don't have to worry about biodegradable. This appearance is made by those who use it to give a traditional look and touch. This material also is a relatively low price to install. Prevent slip is a must for this product.
The coco fiber mat is strong enough to scrape dirt and mud off shoes and remove water. When walking into an entrance to avoid a slip that danger for kids or yourself,. It is also easy to clean when dry with a vacuum or dry under the sunlight to remove the dusk. If you interest in this product, you can ask us because we will give you the best material of coco fiber mat in the market.
If you need any further assistance regarding the coco peat,coco fiber or other coconut derivative products, please click this Whatsapp link to contact us directly: (Fajar Stevano) or email: [email protected]