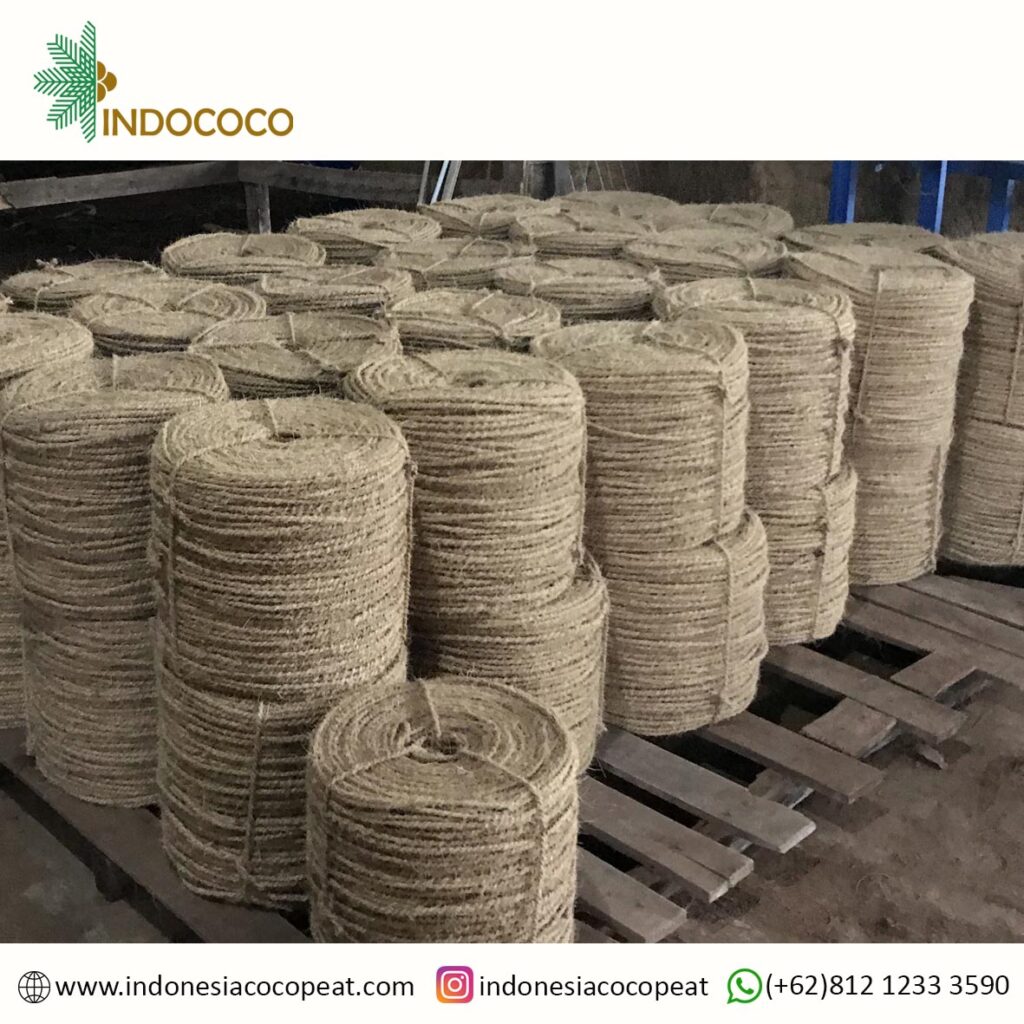 Rope can be made from different kinds of materials including synthetic and natural fibers. Coconut fiber rope is one of example of rope which is created from natural fibers. Compared with other natural materials, coconut fibers are highly better since it provides numerous uses and benefits.
Coconut rope is known to be raw materials that are used to make a variety of coco crafts. There are many products such as doormats, nets, handicrafts, brooms, and house accessories. It really helps during production process so people like to use it. 
What to Know about Coconut Fiber Rope
Either you want to buy products from coco fiber or making things using this material, it is important for you to know what this material is. Not to mention about its benefits that you commonly find in daily life so that you can use it more optimally.
Coconut rope is made from coconut fibers, natural fibers that become one of the parts of coconut husk. It have a strong texture.
Aside from its strong texture, it is also quite waterproof, making a good option for rope material. Since it is a natural material, it doesn't contain any chemical or harmful ingredients that can cause environmental damage. It doesn't produce odor and can be find easily. It is available at affordable price too. 
In order to produce coconut fiber rope, spinning machine need to arrange the coconut fiber. This rope machine will helps you to spinning the raw material into ropes. After being spun, the rope will be twinned and arranged in particular sizes for different uses. 
The benefits
Since coco fiber rope is all-natural, it offers various benefits. It helps growers to take care of their plants. They commonly use it to make plants bed, causing more attractive natural looks in the garden. Besides, it won't spill any chemicals that can damage the surrounding soils. 
It is not only natural material but also biodegradable. This can help you saving the environment by reducing unnecessary waste. It serves as a green option compared with other numerous synthetic ropes available in the market. 
All-natural materials with a high durability withstand in different environments arrange the shape of coconut rope. So that it remains strong even after goes through several seasons. The thicker coconut fiber rope is, the longer it will last. 
Most importantly, this natural rope is available in cheaper price, such as the ones make from sisal. It can be a good choice if you require many ropes for various uses. Either you use coconut fiber rope for gardening or other purposes; there are almost no other materials with the similar qualities. It is not only strong and environmentally friendly but also affordable.
If you interest to know more information about coconut rope, you can visit our website or click here to send a direct message to our team.