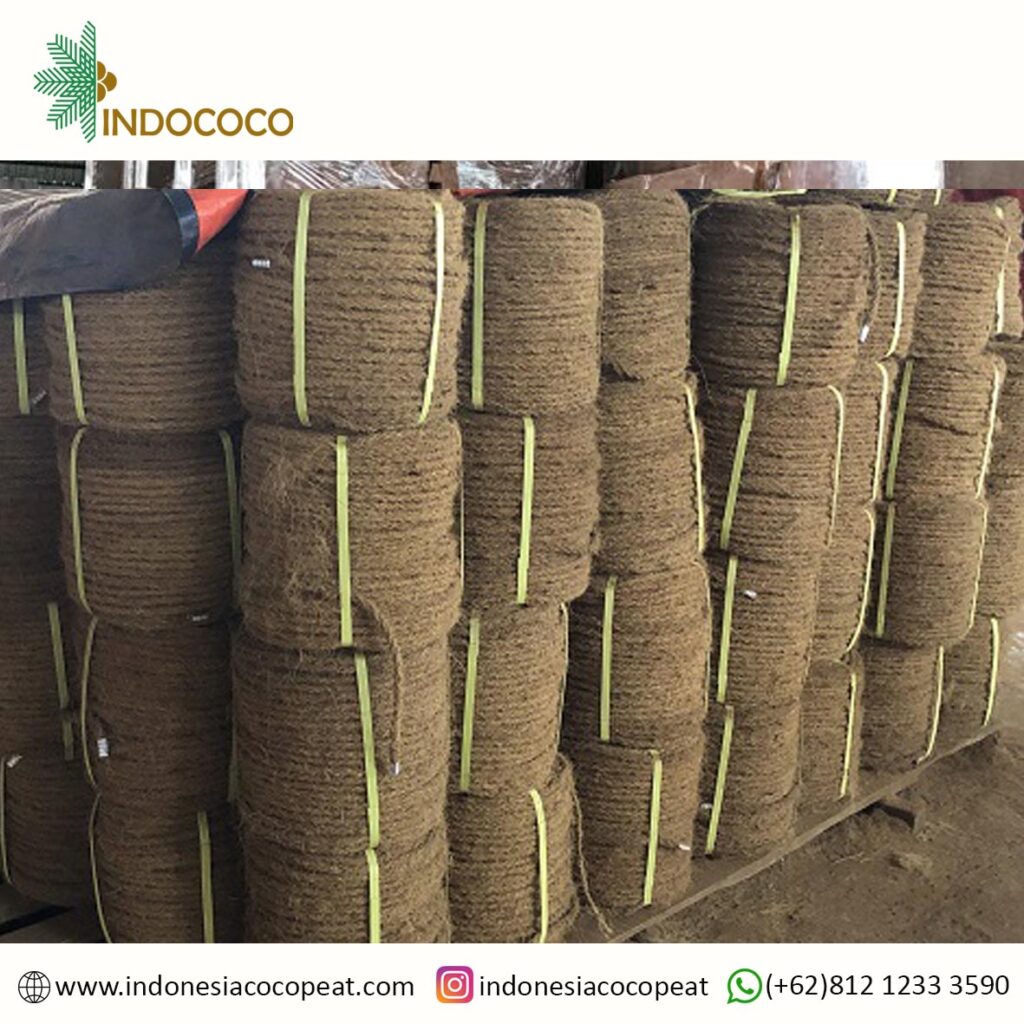 Indonesia coco rope supplier is a rope that has the best qualities and benefits rather than other rope. Various materials for the primary product for rope or twine, now many people use plastic rather than natural ones. The climate change issues have driven us into more environmentally products rather than a once-use product like plastic. Like we said before, one natural fiber is coco rope, or coco twine, a high-quality and versatile product made from the inner husk of the coconut. Hand or machine makes this product with a thickness of 3 to 8 mm, 11 meters per rope. Now, coco rope applies in any field starts from home use to industrial use like geotechnical engineering.
The benefits of coco rope are that it is a natural and environmentally friendly product. For people who have a hobby in gardening, this can be unique. Unlike other gardening materials, coco rope will not leach chemicals into the surrounding soil. Indonesia coco rope supplier is natural and can also be degraded or composted after it doesn't use anymore. It will help eliminate unnecessary waste and is a greener option than much other rope in the market. Also, you can get this rope with low cost than other natural rope, such as sisal. You get stronger and thicker strands of coco rope for less than natural rope to help save your budget.
The more benefits of Indonesia coco rope supplier
The benefit of Indonesia's coco rope supplier is the product quality is never in doubt. Gardeners and producers can use coco rope in a variety of ways. Hops growers also can use it to support their crops. For other manufacture, coco rope is excellent media for floor mats because it has highly durable and natural touch floor covering. Some even use coco rope as fencing material to keep pests out of their gardens, rather than opting for an electric fence or pesticide that is dangerous near kids or pets. Because the coco rope is an acidic an safe for people around and for the nature.
Indonesia coco rope supplier is mostly familiar among hops growers. Back then, some growers have used metal wire to string their hops. Because the possibility of contamination exists with the metal or plastic, some researchers or brewers refuse to use that material. Coco rope offers all of the benefits of synthetic twine, but it is more natural. Coco rope can also use for fish cultivation or another aquatic farming purpose, and other oceanic farmers benefit from using it. Plus, coco rope can soak in saltwater without damaging its fiber and reducing the durability of its product. Some people also invented this coco rope used for fencing with coco rope.
This rope must be soaked first in a solution that keeps pests and insects away from the area. The critical benefit of coco rope use is that it is not as expensive as running an electric fence for farming purposes. Coco rope has several other services in the garden and around the house. It used to create woven floors for covering, hang for clotheslines, or put up bird feeders. This product has no limitation of use depends on how creative you are in using this product. Whether you use coco rope for garden or other purposes, it'd be hard to find another material that offers as many this product give. You can click this Whatsapp link to contact us directly: (Maria Arumingtyas) or email: [email protected] for more information.