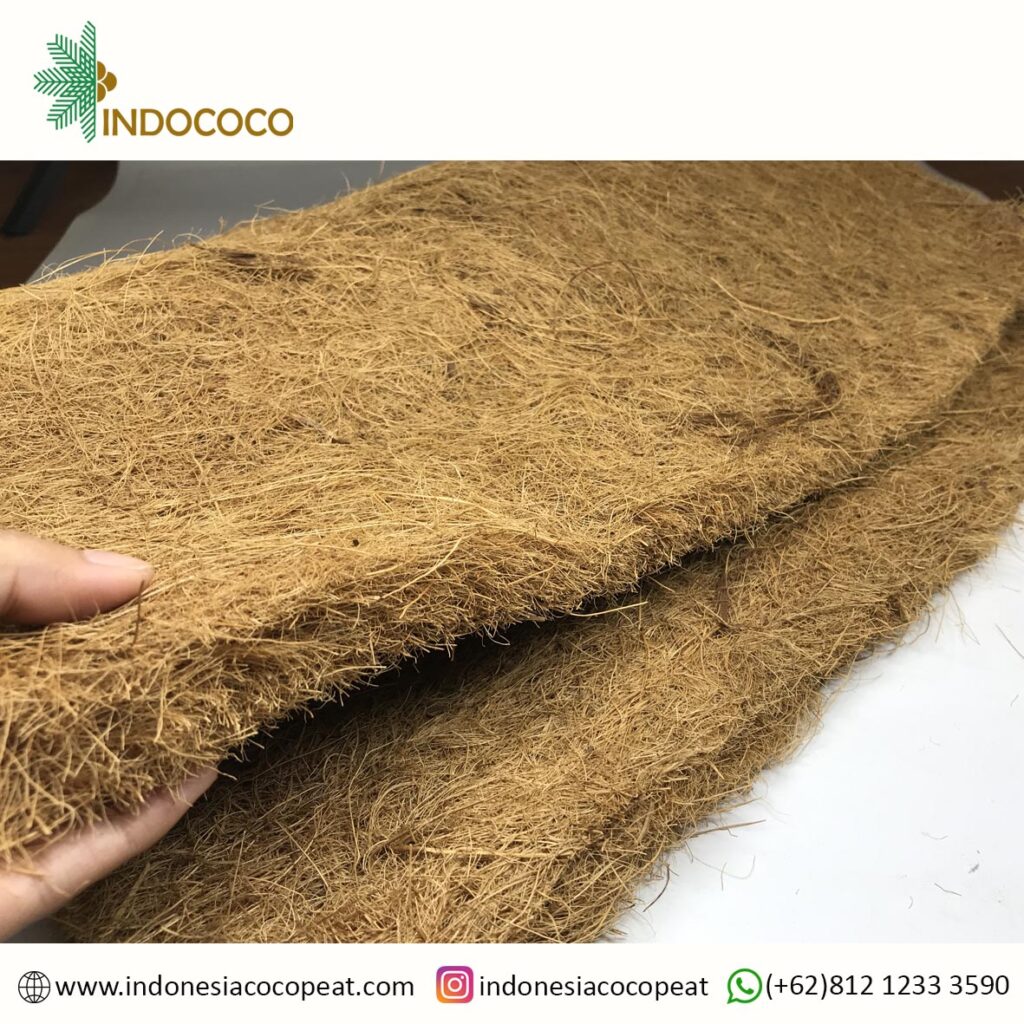 Coco Sheet – it widely use Coco Sheet for planting, micro green, even reptile lovers need this product to ensure the reptile cage has a natural appearance. So far, many people think that coconut fiber has no economic value. But thanks to proper processing techniques, coconut fiber can now have many benefits for humans. In addition, this material is also environmentally friendly. So even if you use it in large quantities, you don't have to worry about the bad effects. This product does not have a bad impact on the environment because of its bio-degradable nature. Even though it has been process and printed with latex glue, coco sheet is still safe to use as any media.
High-quality Coco Sheet from Indonesia
If you are looking for the best quality coco sheet. We have what you are looking for because we only provide the best for our clients. You can order our products in small or large quantities, we still provide friendly service to every customer. In addition, our factory maintains high standards in the production. Many clients evidence this from all over the world, they are factories that produce goods needed by humans, such as shoes, spring beds, household appliances, and various other high-value goods. They choose us because they need trusted suppliers that can fulfill what they need.
Our experience as suppliers for goods factories will ensure you get quality items. We have a high production capacity so that we can meet all requests from clients. In addition, you can also negotiate to determine the specifications needed. You can request a product with certain specifications and we will try to fulfill that request. You can personalize the size, width, length, and thickness of the coco sheet. A reliable delivery network will ensure you receive your products safely. We will pack each coco sheet in a roll covered with plastic to ensure product quality during shipping.
Coco Sheet Supplier
If you have a factory that produces goods and needs coco sheets in large quantities, you will get special prices from us. We know that only a few coco sheet suppliers can meet the demand in the market. Higher demand than supply makes the price of this product continue to increase in recent years. However, we ensure every client gets quality goods at affordable prices. Considering that Indonesia is a tropical country that has a lot of coconut plantations, we have a lot of resources to process coco sheets. An efficient production process enables us to sell quality products at the best prices. Hence, clients from all over the world satisfied with what we deliver.
And when you compare Indonesian coco sheets to other products from different regions. You understand that our products are better. The climate is perfect; the plants are healthy, and with sophisticated processing methods, our company produced high-quality coco sheets. And we are proud of what we did because we helped other companies to produce high-value goods. Click Indonesiacocopeat WhatsApp (Maria Arumingtyas) email: [email protected] for more information.